5 CIRCUITS in 1
With a variety of circuit configurations ranging from 1 100 to 4 200 m,
the Lurcy-Lévis speed track is adapted to everyones needs and expectations.

— THE STRAIGHT: (1 500 m) FIA homologated. Ideal for aerodynamic set-up work and for testing maximum speed, standing-start acceleration or braking performance…
— MAIN CIRCUIT: (from 2 400 to 2 600 m). It features long, constant-radius curve, a hairpin, a series of contrasting sweeps and a downhill section that allow you to pinpoint a car's handling capabilities.
— WEST CIRCUIT: (1 300 m ). It includes the whole of the long corner and two tight, right-hand corners that lead back on to the main straight. Ideal for evaluating downforce.
— FULL CIRCUIT: (4 200 m). It uses the whole length of the straight and connects to the other circuit layouts. Ideal for handling and endurance testing.
— TRAINING CIRCUIT: (1 100 m). It features a series of contrasting corners with various radii and a hairpin.Suitable for deceleration testing.
Download the circuit's map >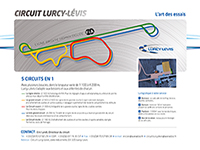 Download the technical layout >